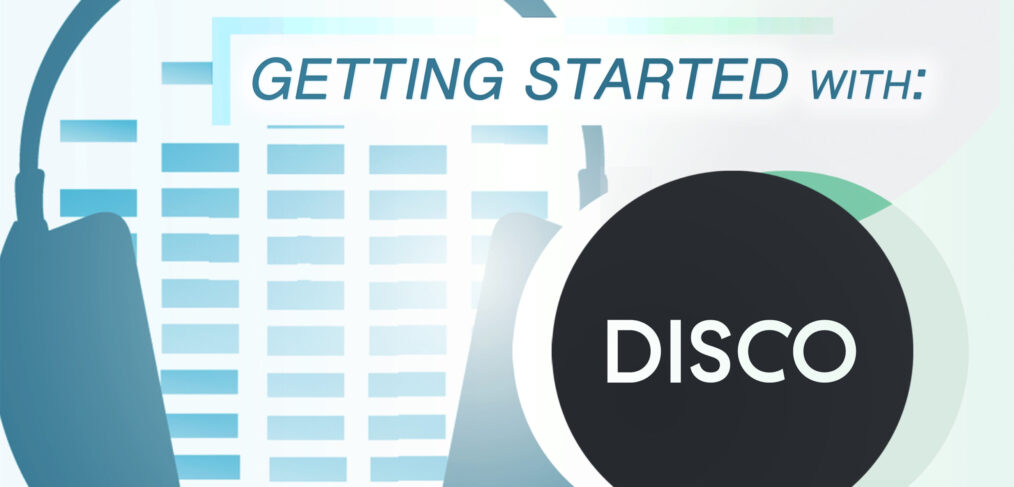 GETTING STARTED With DISCO
This article is part two in a multi-part series on metadata for online music search platforms.
Last month we offered a quick-start guide to SourceAudio, and will be offering tips and tricks with each article on how to get the most out of your metadata on each platform.
For help choosing an online search platform for your music library, see our round-up of four top providers.
DISCO is much more than an online music search platform. Your library should be too.
Last month's guide focused on the more intricate details of getting your music metadata collected, organized, and optimized on SourceAudio; doing the same for DISCO, the playlist-based music sharing and discovery platform with roots in the commercial music industry, will require a slightly different approach.
This isn't just because onboarding with DISCO is already intuitive, what with their accessible tutorials, documentation, and highly responsive tech support. More so, it's because getting your music online and searchable barely scratches the surface of what makes the platform uniquely powerful as a part of modern music search.
DISCO is nothing short of a full music discovery ecosystem, with a host of tools seamlessly connecting music libraries, artists, labels, supervisors and more, each with their own interfaces, apps and integrations. While other production music platforms present your library as a storefront, complete with signage, branding, navigation and automated checkout, DISCO stands out by being equal parts streaming service, asset manager, organizational tool, and CRM for anyone working in music licensing.
This innovative approach places a high premium on working closely with each of your clients, encouraging and empowering you to make each and every contact personal—which while not as simple as a quick "set it and forget it", has also never been so easy to manage. Additionally, DISCO's recently launched "Discovery Suite" add-on subscription includes a more traditional searchable Library View similar to SourceAudio or Harvest, though even here DISCO has added some tasteful technical flourishes of their own. The team also made sure to mention that this is truly just the beginning for DISCO in the production music space, and based on their aggressive expansion of services over the last year and continual response to user feedback, we're inclined to believe them.
Each new DISCO account comes with a fully-featured 30-day free trial, with a tech support team aimed at getting your library up and running and the best it can be. You can sign up and follow along here.
WHY MUSIC METADATA
We've focused in the past on the importance of assembling good metadata for your library, and this month with DISCO highlights another key component in making your music presentable:
Your library is only as engaging as you make it for your listeners.
When pitching custom playlists and catered libraries to clients directly, it's as important as ever to make sure all the aesthetic details are fleshed out and the featured metadata is complete, accurate, and representing the best your music has to offer.
Whether it's relevant info for artist profiles, album artwork, bios, or even just clean track titles, seeing the customization of your library through is as important to the perception of your brand as any money spent on marketing. And as before, keeping your writer, publishing, and descriptive metadata complete and up to date is as important to your music being found and placed as the mixing and mastering of your tracks.
Don't just see metadata as a way to get a cheap leg-up on SEO, see it as the last step in making your music usable, professional, and easy to find.
Part 1: PLAYLISTING
As much as playlisting continues to be a buzzword in the music industry, its fundamental utility in powering organic human-based discovery couldn't be better showcased than with DISCO. Playlists are the DNA of DISCO, up to and including how you get music onto the platform: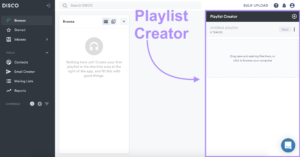 With a drag and drop, you've created your first playlist on DISCO. All tracks from this playlist are now a part of your DISCO library, and can be added or mixed with other playlists as you go on to create more.
This basic functionality no doubt owes its origins to DISCO's early-adopter client base of sync teams, A&R Reps, Music Supervisors, labels and musical artists, but the concept tracks pretty well for production music libraries. After all, how many new "album" releases from trailer and film libraries do we see that are really just highly targeted mixes of tracks for specific uses?
DISCO Playlists can house albums, compilations of albums, themed collections (like "Dark Dubstep Trailers" or "Bouncy Commercial Themes"), or even more granular selections catered for specific clients, each one customizable with individual art, branding, and sharing controls, and streamable by anyone with or without a DISCO account. The fact that DISCO playlists are so easy to create and share underlies the functional power of the platform: responding to creative briefs or client requests with custom playlists is quick, presentable, and personal, and by virtue of being so fast and manageable, vastly superior to dumping a client on your homepage and hoping they find their way to your best tracks.
Each playlist sports realtime stats on track plays and downloads (for Pro and Plus plans), making it all the more compelling to craft individual playlists by contact to better hone in on each listener's specific interests. All playlists organize neatly in channels and sub-channels (which can also be shared with Pro plans), and can be assigned custom playlist tags to help keep track of pitches, client favorites, personal favorites, or more.
**Note: DISCO also has a standalone Mac and PC app for bulk uploads as well, with tech support on-hand for complicated file deliveries or subfolder architectures.
Network Effect
The true beauty of DISCO's strategy, though, has to do with the listeners, music supervisors and other potential licensees who hold DISCO accounts and have already integrated the platform into their daily workflows (special pricing is made available to these parties via Music Supervisor accounts).
With the click of a button ("Add to DISCO"), any listener that you've shared a playlist with can add those same tracks to THEIR playlists and collections without the need for any additional upload/download, using the same UI and organizational tools to build up their own library of favorite tracks. Besides being useful to the supervisor for their personal use, these collections and playlists can in turn can be published on your DISCO Library (part of the Discovery Suite add on) and shared down the line with collaborators, industry creatives and other potential clients who may be interested in your tracks (provided your sharing preferences allow it).
The snowball effect here should be obvious—how by making music collection on DISCO as enjoyable as curating a personal Bandcamp collection, those whose job it is to discover music become that much more inclined to remember, share, and potentially license music they never would have found otherwise. And according to DISCO, both senders (production libraries, labels, publishers, promoters etc.) and receivers alike (radio stations, A&R reps, the 700+ music supervisors DISCO boasts) love the aesthetic and functionality, using it all day to pass around their latest finds and releases without ever needing to dive into Dropbox links, offline local files, or messy iTunes libraries.
Add to this a highly stylized and functional smartphone app, and you've essentially created the Spotify for Music Supervisors, with all the ease of use you would expect from a modern responsive tech product. Sharing controls on a playlist-by-playlist basis give you the power to limit how far your tracks go into the wild, but in production music settings it's hard to imagine not wanting your tracks to circulate freely amongst the very people spending their time trying to find fresh new sounds for their trailers, films, video games or TV shows. Just make sure to keep your contact info up to date in all track metadata, so those looking to buy have an easy time getting in touch.
**Note: Channels and Libraries (see next section) are also shareable at the Pro and Discovery Suite levels, respectively, vastly increasing your ability to invite clients into your world. Share multiple playlists at a time, for new releases, past favorites, previously licensed, and more!
Part 2: LIBRARIES
There are still plenty of cases where giving someone search access to your full library is important, and with their Discovery Suite add-on, DISCO has a graceful solution for that as well:
If playlists and channels organize your tracks for specific uses or pitches, Libraries are where you can curate a public facing version of your DISCO with select tracks and playlists. Libraries feature dropdown navigation and search just like any other big-name production music platform, organization based on track metadata and existing playlists, and an enticing tag cloud.
Notable as well is the ability to make multiple custom libraries (to feature, for example, different labels, or different subsets of libraries). These show up searchable to the listener the same as any complete library, and you can opt to include or exclude any number of channels from a library at setup. For full DISCO library setup instructions, see their documentation here.
Metadata
Those following along from our previous post on SourceAudio will notice that many of the same metadata tips become especially relevant here, since Libraries are where your descriptive metadata is laid bare. Like SourceAudio, DISCO will automatically read metadata tags from embedded ID3 information, taking what it can from MP3s, AIFs, and WAVs, though you might also find useful some of the Batch Metadata options at time of import (for album/playlist wide metadata), or for more advanced users, CSV download from the "Settings and Account –> Metadata" page. And as before, once your tracks are imported, metadata can be edited directly from the track view: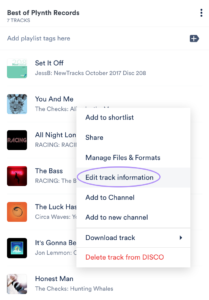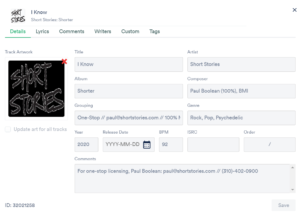 If your metadata isn't as complete as you'd like it to be, never fear: DISCO also lets you customize which fields are visible to the end user under "Settings –> App Settings":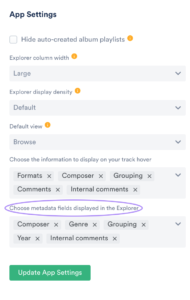 DISCO's stock tagging taxonomy is fully customizable under "Settings and Account –> Track Tags", though note that changing any of the starter tags for Genres, Instruments, Moods, Track Type, Lyric Themes, and Vocal Content will not change the output of their AutoTag feature (more on that in a second). Also, do note that only a selection of DISCO metadata fields are written to downloaded files (see the full list here), meaning that any additional fields must be written to the "Comments" metadata of your audio files, enabled via this setting: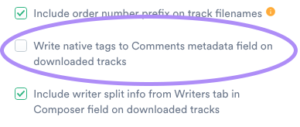 For more info on developing a good taxonomy for your library, see our Metadata QC Crash course from June of this year.
**Note: DISCO does not currently support automatic CSV import for metadata, instead requiring you send your edited CSVs to tech support who will happily manage the import for you. We've been assured though that this is another much requested feature on the near horizon.
AutoTag
Speaking of AutoTag, we at TTA were excited to have an in-depth look at our robotic competition, TagTeam Analysis of course being a human-listening based metadata tagging company with over ten years in the production music industry, and AutoTag being DISCO's machine-learning-modeled descriptive tagging add-on included in the Discovery Suite.
All it takes to assign AutoTag Metadata to your tracks is a quick Drag-and-Drop of a track or playlist into the "Auto tagged tracks" area of the sidebar: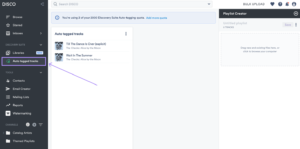 The promise of AutoTag is all the consistency of a well-tagged library with none of the work of manually listening to every track, as is customary with descriptive metadata and thus far the only proven way to get accurate results. While not comprehensive, our batch of test tracks featured a few different styles of music, and included both tracks we hadn't tagged before as well as previously-tagged music that we could directly compare data on.
Our assessment?
We're happy to give it an optimistic "Pleasantly Surprised".
Of the new tracks we hadn't already tagged ourselves, the terms that AutoTag got right were impressive, sometimes almost scarily so, and genuinely reflected insightful descriptive identifiers that could be useful in finding the music. AutoTag was also fairly consistent with these tags, correctly identifying a good 7-8 out of 10, more than a passing grade as far as fulfilling their promise of "consistent tags without the work".
Things did start to get a little sticky when looking at the tags that didn't work, though, as these would sometimes range from "irrelevant" to "way off". Instruments in particular showed quite a few false positives, with synth-heavy tracks we tested sometimes being erroneously labeled with "Electric Guitar" or "Piano", and some important instruments (like heavy featured drums, or a prominent tenor sax solo in one track) not showing up at all.
Mood/Feel and Genre tags were probably the most consistent of the bunch, though again, when compared with tracks tagged by humans, the gulf in nuance became a bit more obvious. While some of this can be boiled down to subjective opinion, there was a bit of a sense of a "weighted average" feel to the tags assigned by AutoTag, with some general tags like "Party", "Fun", and "Happy" being applied maybe a bit too liberally, and some of the nuanced distinctions between the tracks not quite picked up by the machines. This may also be a side effect of the generalized taxonomy used by DISCO's AutoTag, which may be lacking some of the specificity some production music libraries need to distinguish their tracks.
From the perspective of a site heavily favoring human curation via playlisting over blind searchability to begin with, AutoTag is without a doubt an asset for DISCO users who may need a quick, down-and-dirty descriptive metadata solution where accuracy isn't of utmost importance. But being the metadata sticklers we are, it bears reiterating that incorrect and incomplete metadata, besides muddling search results and harming discoverability, is a big turn off to listeners/potential clients who bother to filter the tracks they are taking the time to audition. Some level of listener QC would be highly recommended after the fact should you opt for AutoTag instead of the tried-and-true human ear.
Part 3: NETWORK and BEYOND
Metadata foibles aside, we do have to commend DISCO for their relentless adaptation and rollout of new features, many of which have premiered in the last year alone. For the sake of time we'll summarize a few standouts here, but gazing into the collection of tools, options and functionality, you do start to see a constellation of features geared towards helping music libraries grow their network:
– Supervisor Feed: At your discretion, opt your Discovery Suite Library into a feed of Libraries available for browsing inside Music Supervisor accounts, bumping you to the top with each new release (just make sure you've made your library openly accessible).
– DISCO Curated Playlists – Submit tracks weekly for consideration to be included in a special DISCO playlist of tracks, akin to a Spotify "For You" playlist for music supes.
– Email Creator: Ditch Mailchimp, Campaign Monitor or any other email service for one that integrates your playlists (and listening stats!) directly with your newsletters, promotions or marketing blitzes.
– Team Integration/Inboxes: Allows multiple account holders from your team (or collaborators) to build and edit DISCO playlists, channels, and Libraries, along with a unified Team Inbox for fielding playlist or track submissions from (your collaborators so you can avoid downloading and uploading yourself) other DISCO users.
…with, we've been assured, much more on the way.
DISCO is a platform that encourages a hands-on approach to client relations, and will undoubtedly make your library and business better for it. It's tempting to sign up for their Libraries add-on and treat it the same as a SourceAudio or Harvest, but just doing that would be missing so much of what makes DISCO special, as well as what could be giving you an edge when pitching projects. We like DISCO because they want you to take active ownership over your place in the music industry, and clearly have put great care into designing tools and features that support you in that pursuit.
Many thanks to Tim from DISCO for his help with this article. Tagteam Analysis offers music tagging and metadata services to companies and libraries in need of advanced music search tools and optimization. Read more about us on our website: tagteamanalysis.com